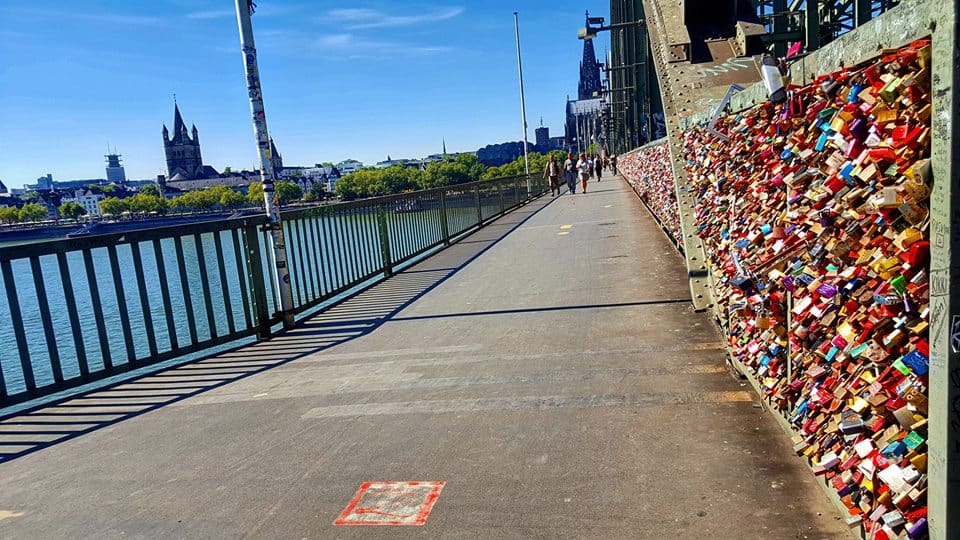 Welcome to Cologne, a city that's as bubbly as its famous Kölsch beer and as captivating as the notes of a Beethoven symphony! Nestled along the banks of the mighty Rhine River, Cologne is a spirited blend of history, culture, and a whole lot of fun. Prepare to be enchanted by its stunning architecture, vibrant festivals, and a warm-hearted atmosphere that'll make you feel right at home. So, put on your adventure hat and get ready to dive into the whimsical world of Cologne!
Cathedrals and Castles:
The heart and soul of Cologne lies in its awe-inspiring cathedral – the Cologne Cathedral (Kölner Dom). This monumental masterpiece is like a giant cake topped with spires that seem to touch the sky. As you step inside, the intricate stained glass windows cast a kaleidoscope of colors that'll leave you mesmerized. And don't forget to climb the tower for panoramic views of the city – it's a workout with an extraordinary reward!
River Rhine Adventures:
Cologne's love affair with the Rhine River is undeniable. Take a leisurely stroll along the riverside promenade and enjoy the soothing views of the water. For a touch of romance, hop on a river cruise during sunset and watch the city's skyline light up in golden hues. And if you're feeling adventurous, rent a bike and pedal your way along the Rhine Cycle Route, taking in the picturesque landscapes and charming villages.
Beer and Bratwurst:
Get ready to embark on a culinary journey that'll make your taste buds dance! Start your day with a hearty breakfast of Brötchen (rolls) and cold cuts, and don't forget to pair it with a shot of strong coffee. For lunch, treat yourself to a plate of traditional German sausages, like the famous Bratwurst, and wash it down with a glass of Kölsch beer – the local brew that's as refreshing as a splash in the Rhine. And the cherry on top? A slice of delicious Black Forest cake to satisfy your sweet tooth!
Museum Madness:
Cologne is a treasure trove of museums that cater to every interest and curiosity. The Chocolate Museum is a sweet escape where you can learn about the history of chocolate, watch the chocolate-making process, and even indulge in some irresistible treats. For art enthusiasts, the Museum Ludwig offers a collection that spans from modern masterpieces to pop art gems. And the quirky Perfume Museum will take you on a fragrant journey through the world of scents – it's like stepping into a perfumer's dream!
Festivals and Celebrations:
Cologne knows how to throw a party, and its festivals are a testament to that! During Carnival season, the city transforms into a whirlwind of costumes, music, and laughter. Join in the festivities, dance in the streets, and revel in the electric atmosphere that's infectious and irresistible. And if you happen to be in Cologne during the Christmas season, the Cologne Christmas Market (Weihnachtsmarkt) will transport you to a winter wonderland filled with twinkling lights, warm Glühwein (mulled wine), and charming stalls.
Street Art Safari:
Cologne is an urban canvas where creativity knows no bounds. Street art here is like a gallery without walls, with vibrant murals, graffiti, and installations waiting to be discovered around every corner. The Belgian Quarter is a hub for street art enthusiasts, offering a visual feast that ranges from political statements to pure artistic expression.
Romantic Rhine Promenade:
Cologne has a romantic side that'll make your heart skip a beat. The Hohenzollern Bridge is a testament to love, adorned with countless love locks that symbolize eternal bonds. Join the tradition by attaching your own lock and tossing the key into the Rhine, sealing your love in a gesture that's as timeless as the river itself.
Botanical Beauty:
Escape the hustle and bustle of the city and step into a world of tranquility at the Flora Botanical Garden. This lush oasis is like a symphony of colors and scents, where you can wander through themed gardens, admire exotic plants, and simply let nature's beauty wash over you. It's a perfect spot for a leisurely afternoon picnic or a peaceful moment of reflection.
Medieval Charms:
For a taste of medieval charm, head to the Old Town (Altstadt). With its narrow cobblestone streets, half-timbered houses, and cozy cafes, it's like stepping back in time to a fairy tale setting. Be sure to explore the quaint shops that offer everything from handmade crafts to unique souvenirs, and don't forget to try a traditional Cologne mustard for a flavorful souvenir to take home.
In conclusion, Cologne is a city that's as diverse as its architecture, as lively as its festivals, and as heartwarming as its people. It's a place where history and modernity coexist in perfect harmony, where the Rhine River weaves tales of romance, and where every moment is a celebration of life's little joys. So pack your sense of wonder and get ready to embrace Cologne's vibrant spirit – it's not just a destination, it's a playground of fun, laughter, and unforgettable memories.