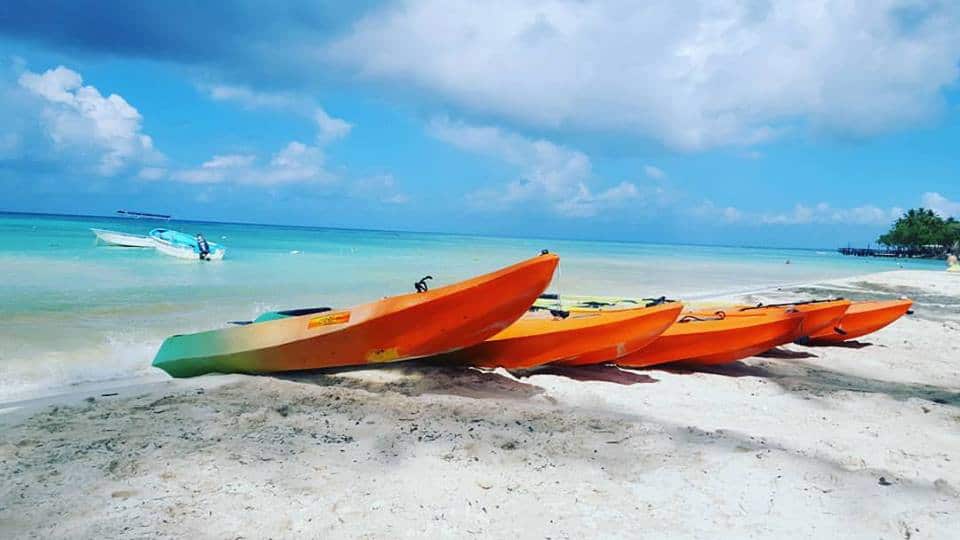 Punta Cana: Where Paradise Comes to Party!
Welcome to Punta Cana, the sun-kissed gem of the Dominican Republic, where the vibrant spirit of the Caribbean collides with endless sandy shores, turquoise waters, and non-stop fun! Get ready for an exhilarating adventure filled with unforgettable moments, exciting escapades, and the most delicious tropical cocktails you've ever tasted! So, fasten your seatbelts and let's dive into the exhilarating world of Punta Cana!
A Tropical Playground:
Picture yourself on a postcard-perfect beach, toes sinking into the softest sand imaginable, and the gentle ocean breeze caressing your sun-kissed skin. That's Punta Cana in a nutshell – a tropical playground where Mother Nature pulls out all the stops to impress you. Boasting a coastline that stretches for miles, Punta Cana is home to some of the most breathtaking beaches in the world. Bavaro Beach, Macao Beach, and Playa Juanillo are just a few names that should be on your beach-hopping bucket list.
All-Inclusive Extravaganza:
Forget your worries and embrace the all-inclusive extravaganza that Punta Cana is famous for. The resorts here know how to spoil their guests rotten! With unlimited food, drinks, and entertainment at your fingertips, you'll feel like a celebrity on vacation. Splash in the colossal pools, enjoy thrilling water sports, and feast on mouthwatering delicacies from all around the globe. And when the sun sets, the real fun begins as the night comes alive with spectacular shows, dance parties, and beach bonfires.
Dance the Night Away:
Speaking of parties, Punta Cana knows how to get down and boogie! The locals' infectious enthusiasm for music and dance is downright contagious. Head to the vibrant bars and clubs, and you'll find yourself shaking your hips to the irresistible rhythms of merengue, salsa, and bachata. Don't worry if you're not an expert dancer – the locals will gladly show you a few moves and embrace you into their fiesta family.
Sip on Exotic Delights:
While you're grooving to the beats, don't forget to quench your thirst with some exotic delights. Punta Cana boasts an array of refreshing tropical cocktails that will make you feel like you're sipping straight from paradise. From the classic Piña Colada, made with fresh coconut and pineapple, to the zesty Mojito, you'll be spoiled for choice. And let's not forget the national drink, Mama Juana, a potent concoction made with rum, red wine, and a secret blend of herbs and spices. A word of caution: one too many Mama Juanas, and you might be dancing on tables!
Explore Like Indiana Jones:
For adventure seekers, Punta Cana offers a playground of opportunities. Embark on an Indiana Jones-style jungle safari, where you'll zip line through the lush green canopy, explore ancient caves, and discover hidden cenotes. Don't forget your camera, because these adrenaline-pumping escapades will leave you with memories to cherish for a lifetime.
Swim with Friendly Giants:
Are you a fan of marine life? Then prepare to meet some of the friendliest giants of the ocean – the majestic humpback whales! Punta Cana is one of the few places in the world where you can go on a thrilling whale-watching tour. Witness these gentle behemoths as they breach and play in the crystal-clear waters. It's a magical experience that will leave you feeling humbled by the wonders of nature.
Rum, Cigars, and Local Crafts:
No vacation is complete without some souvenir shopping, right? Punta Cana has you covered with its vibrant local markets and shops. Grab yourself a bottle of the finest Dominican rum – the perfect gift for your folks back home. Or indulge in some hand-rolled cigars, a specialty of the Dominican Republic. For a touch of local artistry, look out for colorful paintings, handcrafted jewelry, and unique wooden carvings made by skilled artisans.
Tee Off in Paradise:
Calling all golf enthusiasts! Punta Cana is a golfer's paradise with world-class courses that offer stunning views while you practice your swing. Imagine hitting the ball while surrounded by lush palm trees and the sparkling Caribbean Sea in the distance. It's golfing bliss like no other!
Island Hopping Extravaganza:
Ready for even more adventure? Take a break from the main island and embark on an island hopping extravaganza. From Saona Island's picture-perfect beaches to Catalina Island's vibrant marine life, each island has its own unique charm. Snorkel through coral reefs, feast on fresh seafood, and bask in the beauty of nature as you hop from one paradise to another.
The Warmest of Welcomes:
Finally, what truly sets Punta Cana apart from other destinations is the warmth and hospitality of its people. The locals, known as Dominicans, welcome you with open arms and infectious smiles. Engage in friendly banter, practice your Spanish, and let yourself be swept away by the genuine friendliness of the Dominican people. You'll leave Punta Cana not just with souvenirs but with newfound friends who will make you feel like you've found a second home.
In conclusion, Punta Cana is an oasis of fun, relaxation, and adventure where the Caribbean's playful spirit comes to life. Whether you're seeking sandy escapades, thrilling exploration, or simply a carefree fiesta, Punta Cana has it all and more. So, pack your swimsuits, dancing shoes, and adventurous spirit, and let Punta Cana whisk you away on an unforgettable journey to paradise!